Other of Danish archive foundation recourses.
A very useful register is the old alphabetic card-file register for 1845 census of Copenhagen city that remain in »The National Archive« (also available on microfich at "The City Archive of Copenhagen" and source like this also can be found at the Frederiksberg municipal archive).
This sources help to find parent of people living up to and around 1900, difficult to find in other recourses course the large number of people - but you have to be there.
Same places is library of genealogy books, listing marriage, widow's, ancestor, etc.
At »The National Archive« You also find »S. Nygaard's Register«, another alphabetic card-file register, contain a large amount of people and family mostly with roots in Jylland.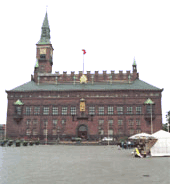 Along the national and the four regional archives recourses most of the county and city administrations hold archive keeping government records of issues related to the local areas. To example "The City Archive of Copenhagen" (Stadsarkivet), who, among other record, collect and keep records of citizens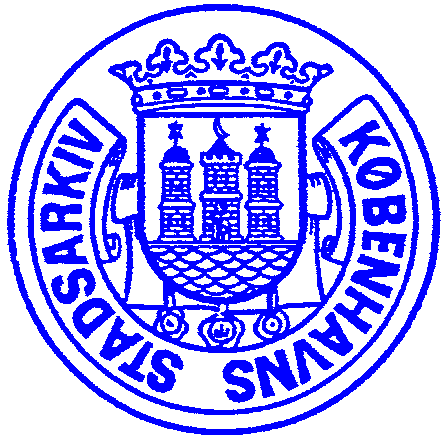 Census for the period of 1888-1923 collected or updated every 6-Month in order of police district each in alphabetic order of surname (special for this archive)
who, when and where they are dead and buried
who collected social support
who was permitted trade license
Similar sources is available for Frederiksberg too, from the town-archive in the basement of Frederiksberg Cityhall.

Atenative sources to find, supply or confirm personal data could be:
Rådstuearkiverne - Counsel Room's archives
Retsbetjentenes arkiver - Court officers archives

Hovedbøger - ledger, with (among other) parent names of illegitimate child
kopibøgerne - with letters from parish council and other judicial or ecclesiastical districts
Case records concerning affiliation order

Godsarkiverne - Manorial archives
Lavsarkivene - Guild archives
Kommunearkiverne - Municipal archives
Before the earliest available census 1787:
One citicens index of Copenhagen exists. It is a list made in January 1659, listing by place of residence all able bodied men who could participate in the defense of Copenhagen against an expected Swedish attack. The attack came the night between 10 and 11 February same year, the Swedes were repulsed and another list was afterwards (in the fall) made to plan local quatering of troops. In addition there are lists related to the students who participated in the defense of Copenhagen. One list of the student regiment, a list of all students in January 1659 and a list of receipts for pecuniary support to students. All lists of students by name only.
These lists were published by Kraks Forlag, Copenhagen in 1920 in a booklet named "Kjøbenhavns Borgere 1659", written by E. Marquard, an archivarian at the Danish National Archives. The lists are available at the archives, in Danske Kancellis Arkiv, "Mandtaller over Kjøbenhavns og Christianshavns Indbyggere og Fordelingen af Indkvarteringen Dec. 1659-Jan. 1660".
U.S. citizens looking for Danish ancestors:
The U.S. Immigration and Naturalization Service might have info.
Write a letter giving his name, variant spellings, date of birth, place of birth, residence in U.S., and any other info you have that might help distinguish from others with the same name (can't have too much info), and request, through the Freedom of Information Act, ANY AND ALL records from the INS at:
INS- Freedom of Information
2nd Floor, ULLB
425 I. Street, N.W.
Washington D.C. 20536
The street is letter I street, not number 1 street. You may have to wait months for a reply.

Calender change from Julian to Gregorian:
The differens between Julian and Gregorian are 10 days plus 1 day for every century after the Julian calender start in 1582, where ther deviation between the calender and the sun was 10 days. At the change to the Gregorian calender this 10 days have to be omited. For the contry with later change was the number of days 11 or more.
Denmark (the monarchy, i.e. The Iingdom of Denmark and Norway together with the Duchy Slesvig and Holstein (but not Iceland and Faroe Islands) in 1700. 11 days was omited between Sunday February 18. and Monday 1. March. (Kgl. rescript af 28 november 1699). Ved reskript af 11 december 1776 bestemtes det, at kalenderen skulle hedde den forbedrede rigskalender. Island og Færøerne skiftede også kalender i 1700, men her udelodes 11 dage mellem lørdag 16 november og søndag 28 november.
England og Skotland (herunder de engelske kolonier som. f.eks. nuværende USA og Canada) i 1752 11 dage udeladt imellem onsdag 2. september og.torsdag 14. september. England (ikke Skotland) havde til og med 1751 årsskifte 25 marts, men skiftede til 1. januar i 1752. 1751 i England begyndte derfor 25 marts og sluttede 31 december, medens 1752 manglede 11 dage som nævnt ovenfor.
Finland fulgte Sverige (som det var en del af) og skiftede i 1753 men bevarede parallelt datering efter gammel stil. Da Finland blev et storhertugdømme under Rusland i 1815 benyttede Finland ny stil medens russiske myndigheder, også i Finland, benyttede gammel stil. Dobbeldatering af officielle papirer forekom ofte.
Sverige. I 1700 udelodes skuddagen. I 1712 indførtes den igen, idet februar fik 30 dage. Endelig overgang i 1753. 11 dage udeladt mellem onsdag 17 februar og torsdag 1. marts.
(Kilde: Otto Chr. Thygesen's program "Dage")

Accessibility of the different archive founds.

The law limit the public access to archive founds in order to respect peoples Privacy. In cases when the issue is about single persons the limit is 80 years. It's possible to be granted exemption across this limit for Science purpose (to research family ancestors). Church records for christening, confirmation and marriage and civil Marriage has a 50-year limit. Church or civil records of buried just have a 10-year limit. This is for archive-sources - if the book of racords still remain in use the limit is 110 years with the only exception for direct posterity. The isue is under discusion.

Dead certificate:
Before the law command drawing up such certificate 1828/29 only a kind of this was drawing. From 1875 started use of two distinguish forms, "Medico Legale" for people found dead, suicide, etc. and common for common disease, age, etc.
Deadcertificate remain in county archives but "Medico Legale" remain in The National Archive.

Other links, addresses and books to sources or knowledge:
addresses:

Danmarks Fotomuseum,
Museumsgade 28,
DK-7400 Herning, phone
(+45) 97 22 53 22

Books to knowledge or sources:

Kurt Filtenborg Hansen Fidonet 2:234/233.21 tilbyder opslag i følgende værker:

Dansk skolestat (1933) bind 1-4: dækker hele landet
Dansk mejeristat (1932): Randers, Ålborg, Hjørring og Thisted amter
De kgl. danske ridderordener og medailler (1954)
Danmark i genopbygningens tegn (1951)
De danske træerhverv (1959)
*Bauers Calender 601-2200
De gamle stednavne i Thisted amt og Øster Hanherred (1965)
Trap Danmark, 4. udgave: Ringkøbing amt

Henning Ballegaard Fidonet 2:234/137.9 tilbyder opslag i følgende værker:

Trap Danmark, tredie omarbejdede udgave:

Tredie bind, Bornholms, Maribo, Odense og Svendborg amter
Fjerde bind, Hjørring, Thisted, Aalborg, Viborg og Randers amter
Femte bind, Aarhus, Vejle, Ringkøbing, Ribe og Færø amter

Danske Gaarde, J.C.B. la Cour, II. Samling

I. Bind , Aarhus, Vejle, Ringkøbing og Ribe amter
III.Bind, Svendborg, Odense og Maribo amter
IV. Bind, Frederiksborg, København, Holbæk, Sorø, Præstø og Bornholms amter

Det danske Landhaandværk: Byggefagene

Bind I Kulturhistorisk oversigt
Bind II Jylland
Bind III Øerne
Bind IV Leverandører

Arne Julin Fidonet 2:236/151.31 tilbyder opslag i følgende værker:

Den danske Lægestand 1-5 (optryk)
Jødiske dødsfald i Danmark
Personalhistorisk Tidsskrift, navneregister 1880-1965
Danske Prokuratorer 1660-1869
Richter: Dødsfald i Danmark 1-3
Dansk biografisk Haandleksikon 1-3
Giessing: Danske... osv. Jubellærere 1-4
Treschow: Danske Jubellærere
Meddelelser om Herlovianere der ikke er dimitterede fra Herlufsholm 1849-1900
Meddelelser om dimitterede fra Herlufsholm 1565-1875
Magister-Staten (1951)
Juridisk & Statsvidenskabelig Stat (1923)
Hof- & Statskalender 1889-1896-1918-1939-1972
Danmarks kommunale Forvaltning: Fr.borg, Kbh. & Bornholm Amter (ca.1930)
Hvem er hvem i dansk erhvervsliv 1982
Danske Gaarde 1-4 (mangler bind 1) (ca 1907)
Kraks blå bog 1962-1967-1985
*Den civile Centraladministrations Embedsetat 1660-1848
Elektricitetens Historie og dens Mænd 1-3
Dansk Købmands-Stand (1955)
Dansk Haandværker Stat 1-5 (mangler bind 3) (ca 1933)
De Kgl. danske Ridderordener - Supplement 1906

Bibliografi over danske "stater" 1913-1981 af Lykke Andersen og Karen Borglykke
Danmarks Biblioteksskole 1985 (183 sider)

Other genealogy or reated books:

Carl Langholz:»Anetavler for Berømte Danskere«, 1. samling,
Udgivet 1989 af »Dansk Historisk Håndbogsforlag« ISBN 87 88742 36 9 (ib.)
Forlaget for genealogi, lokal-, kultur- & rigshistorie
Klintevej 25, DK-2800 Lyngby, Danmark, phone (+45) 42807200
Bjørn Oshsner: »Fotografer i og fra Danmark til og med år 1920«.
Udgivet af landsudvalget for indsamling og bevaring af fotografier og dokumentarfilm, Bibliotekscentralens Forlag 1986.
»Dansegilde ord mordbrand« Vejledning om retsbetjentearkiver ved Niels H. Frandsen. ISBN 87-7423-089-1 - citat:

»Det var en af retsbetjentens opgaver at indrive alimentationsbidrag fra den udlagte barnefader.
Sagerne kan være registreret under politiforvaltningen. I "kopibøgerne" findes breve fra sogneråd, birker, herreder, regimenter og andre myndigheder angående indrivelse af alimentation.
"Journaler vedrørende alimentation" indeholder breve fra kvinder der ikke har modtaget bidraget.
"Hovedbøger" oplyser for hver sag barenfaderens navn og adresse, moderens navn og bidragets størrelse, samt alle indbetalinger.
Journalerne kan også findes under korrespondance og regnskab (regnskab over alimentationsbidrag).
I landsarkivet i Viborg er alimentationssager ofte anbragt under afd. O: Diverse.«

Georg Søndergaard: "Danske Efternavne", forlaget Danmark (en afdeling af Lademann) ISBN 87-15-07722-5
Ordbog for slægtsforskere. Heini madsen. ISBN 87-983134-3-6
Books of local history:
"Gamle slægter fra Hundborg" af Martin Odgaard
Books for learning Danish:
Dictionaries:

Gyldendals røde ordbøger (Gyldendal's red dictionaries)
Dansk-engelsk, ISBN 87-00-73972-3 (niende udgave, 10. oplag)
Engelsk-dansk, ISBN 87-01-09312-2 (11. udgave, 6. oplag)


Teach Yourself Danish, by H. A. Koefoed. Reissued as a paperback in 1995.
Colloquial Danish, by W Glyn Jones and Kirsten Gade
(available in pack of book + 2 cassettes, from the publisher, Routledge: +1 212 244-3336 in New York; there's also a London office)

Danish: A Grammar (same authors) (published by Gyldendal, Copenhagen)
(available with cassettes and workbook)


A source in the U.S. for dictionaries and grammars of Nordic and other languages is

IBD limited
24 Hudson Street
Kinderhook NY 12106
phone in USA: 1-800-343-3531

---
by Poul Erik Jensen